Nepalofficially the Federal Democratic Republic of Nepal is a landlocked central Himalayan country in South Asia. Nepal is divided into 7 states and 75 districts and 744 local units including 4 metropolises, 13 sub-metropolises, 246 municipal councils and 481 villages. It has a population of 26.4 million and is the 93rd largest country by area. Bordering China in the north and India in the south, east, and west, it is the largest sovereign Himalayan state.
Nepal does not border Bangladesh, which is located within only 27 km (17 mi) of its southeastern tip. Neither does it border Bhutan due to the Indian state of Sikkim being located in between.
Nepal has a diverse geography, including fertile plains, subalpine forested hills, and eight of the world's ten tallest mountains, including Mount Everest, the highest point on Earth. Kathmandu is the nation's capital and largest city. Nepal is a multiethnic nation with Nepali as the official language.
Hiking
Hiking is the preferred term, in Canada and the United States, for a long, vigorous walk, usually on trails (footpaths), in the countryside, while the word walking is used for shorter, particularly urban walks. On the other hand, in the United Kingdom, and the Republic of Ireland, the word "walking" is acceptable to describe all forms of walking, whether it is a walk in the park or backpacking in the Alps. The word hiking is also often used in the UK, along with rambling (a slightly old-fashioned term), hillwalking, and fell walking (a term mostly used for hillwalking in northern England). The term bushwalking is endemic to Australia, having been adopted by the Sydney Bush Walkers club in 1927. In New Zealand a long, vigorous walk or hike is called tramping.It is a popular activity with numerous hiking organizations worldwide, and studies suggest that all forms of walking have health benefits.
In the United States, Canada, the Republic of Ireland, and United Kingdom, hiking means walking outdoors on a trail, or off trail, for recreational purposes. A day hike refers to a hike that can be completed in a single day. However, in the United Kingdom, the word walking is also used, as well as rambling, while walking in mountainous areas is called hillwalking. In Northern England, Including the Lake District and Yorkshire Dales, fellwalking describes hill or mountain walks, as fell is the common word for both features there.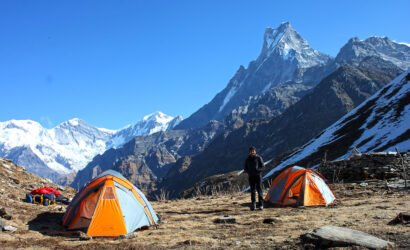 Available through out the year:
Jan
Feb
Mar
Apr
May
Jun
Jul
Aug
Sep
Oct
Nov
Dec
Peak Climbing
A climbing peak may refer to a mountain or hill peak or a rock formation that has to be ascended by climbing. The term is common in Germany where it is specifically used of free-standing rock formations in the climbing regions of Saxon Switzerland, Zittau Mountains and other nearby ranges in the German Central Uplands that can only be summitted via climbing routes of at least grade I on the UIAA scale or by jumping from nearby rocks or massifs. As a general rule, they must have a topographic prominence of at least 10 metres to qualify. In Saxon Switzerland the Saxon Climbing Regulations do not require any minimum height, but define climbing peaks as
Another requirement is its recognition by the responsible sub-committee of the Saxon Climbers' Federation (SBB) and the responsible conservation authorities. For hikers these authorized summits may often be recognised by the presence of a summit register and abseiling anchor points.
In other climbing areas, such as those in Bohemian Switzerland, there are other exceptions. There, climbing peaks only need to have a significant rock face – the lowest side of which has to be less than 10 m high, but at least 6 m high.
Available through out the year:
Jan
Feb
Mar
Apr
May
Jun
Jul
Aug
Sep
Oct
Nov
Dec
Available through out the year:
Jan
Feb
Mar
Apr
May
Jun
Jul
Aug
Sep
Oct
Nov
Dec
Available through out the year:
Jan
Feb
Mar
Apr
May
Jun
Jul
Aug
Sep
Oct
Nov
Dec
Trekking